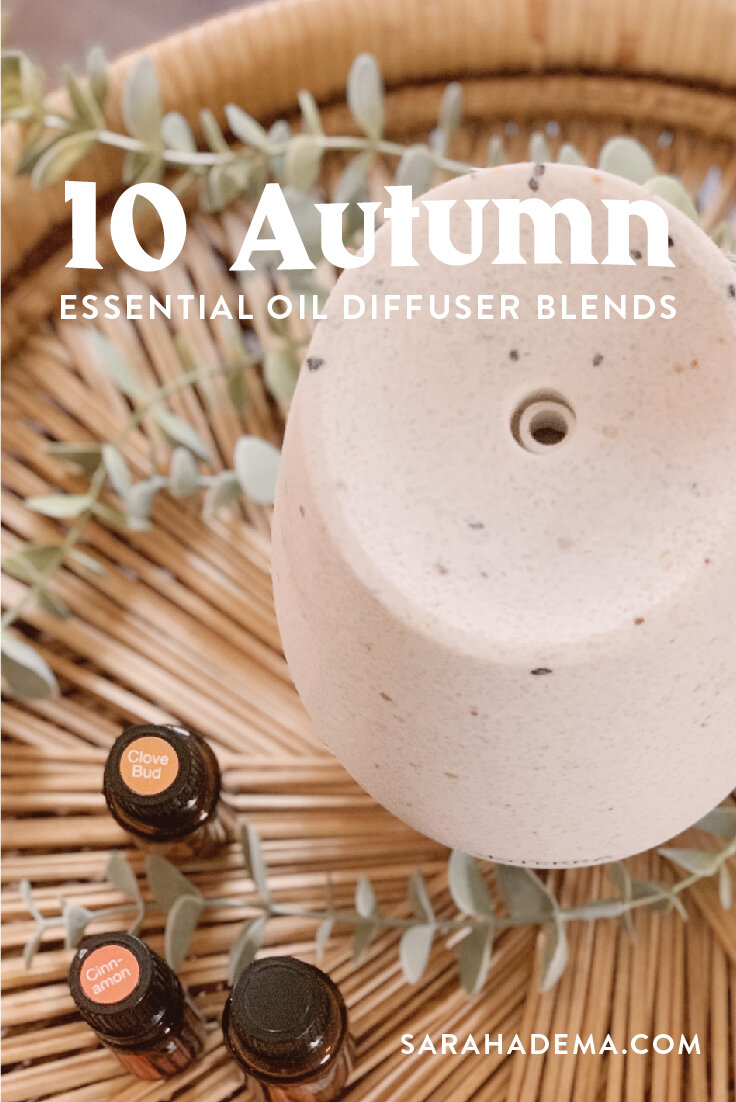 Fall is finally here and honestly I couldn't be more thrilled. I LOVE summer but there is something about getting back into a routine and a comfy pair of jeans!
As you know I am a firm believer in being the atmosphere setter in our homes and that setting the tone sets your day (and lets be honest your family in general) up for a win. One of the best ways to do this is with smell.
Smells have the power to calm, energize, transport us to other places or bring back memories. They can literally make or break an experience.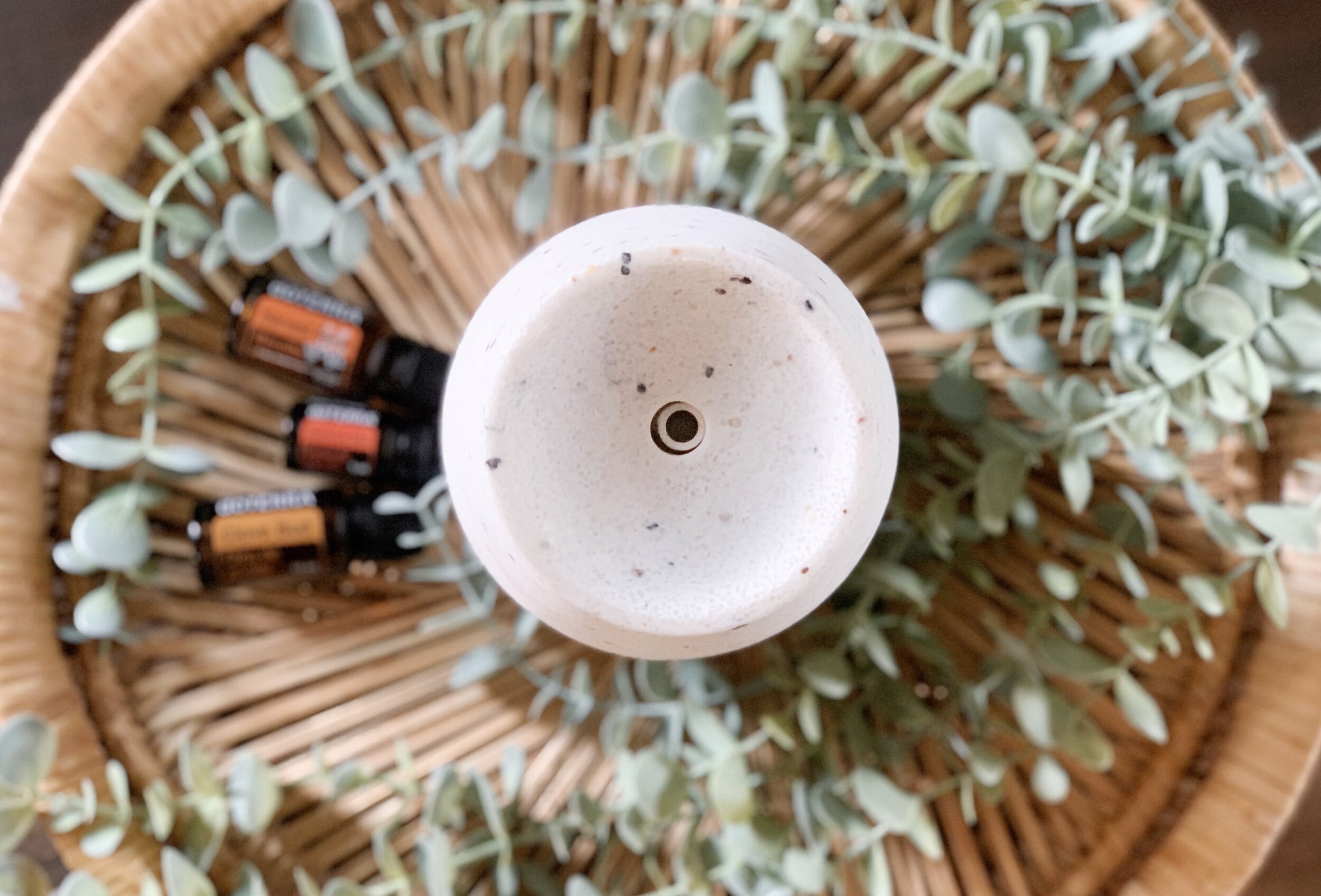 I have compiled a list of 10 Fall Essential OIl Diffuser Blends that I am going to be trying out this autumn. Bring on all the cozy vibes. I am here for them!
---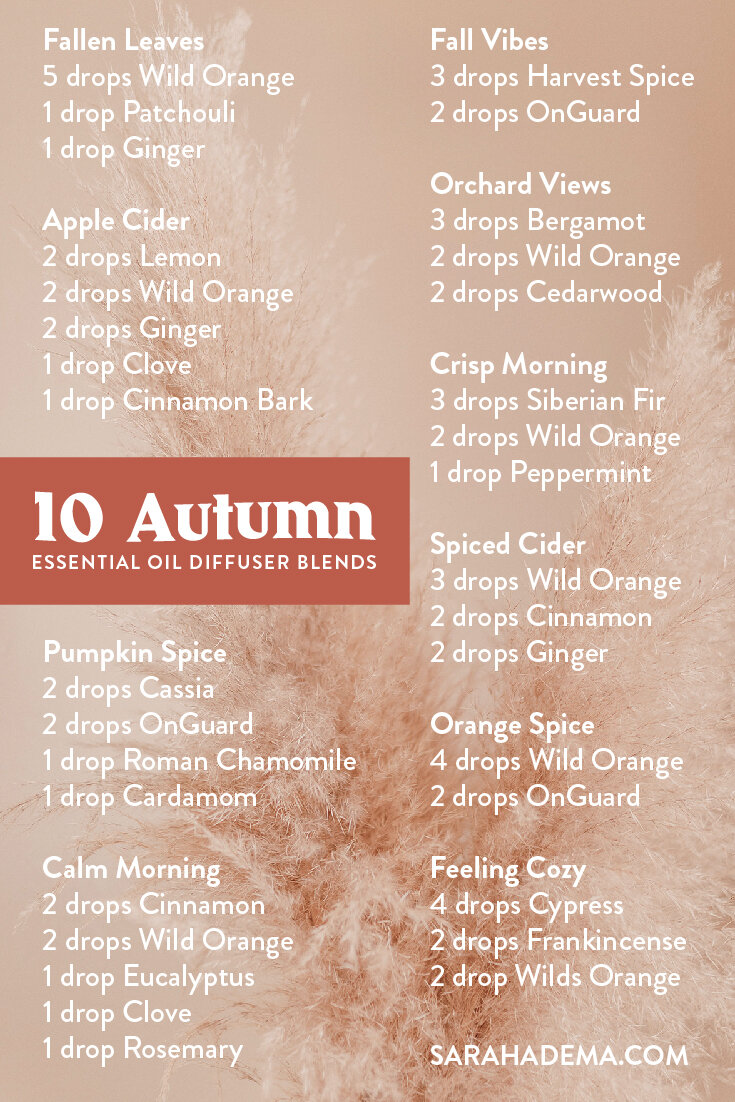 Crisp Morning
3 drops Siberian Fir
2 drops Wild Orange
1 drop Peppermint
Calm Morning
2 drops Cinnamon
2 drops Wild Orange
1 drop Eucalyptus
1 drop Clove
1 drop Rosemary
Spiced Cider
3 drops Wild Orange
2 drops Cinnamon
2 drops Ginger
Pumpkin Spice
2 drops Cassia
2 drops OnGuard
1 drop Roman Chamomile
1 drop Cardamom
Fall Vibes
3 drops Harvest Spice
2 drops OnGuard
Fallen Leaves
5 drops Wild Orange
1 drop Patchouli
1 drop Ginger
Apple Cider
2 drops Lemon
2 drops Wild Orange
2 drops Ginger
1 drop Clove
1 drop Cinnamon Bark
Orchard Views
3 drops Bergamot
2 drops Wild Orange
2 drops Cedarwood
Feeling Cozy
4 drops Cypress
2 drops Frankincense
2 drop Wilds Orange
Orange Spice
4 drops Wild Orange
2 drops OnGuard
---
I would love to hear your favourite from this list OR if you have some new ones PLEASE let me know in the comments! Let's make our homes cozy and dreamy smelling together! xx