Rocky Brave.
My born in quarantine baby.
To be honest, this pregnancy felt a little like I have missed out on the of magic. Quarantine has obviously caused big changes compared to my other pregnancies and it has been a weird and a teeny bit disappointing to not have the full experience and a lot sad to not be able to share it with all of the people I love.
But regardless of all that Rocky was born healthy, delivery was safe (and quick!) and in the end that is what matters.
So…here's how we met Rocky and became a family of FIVE!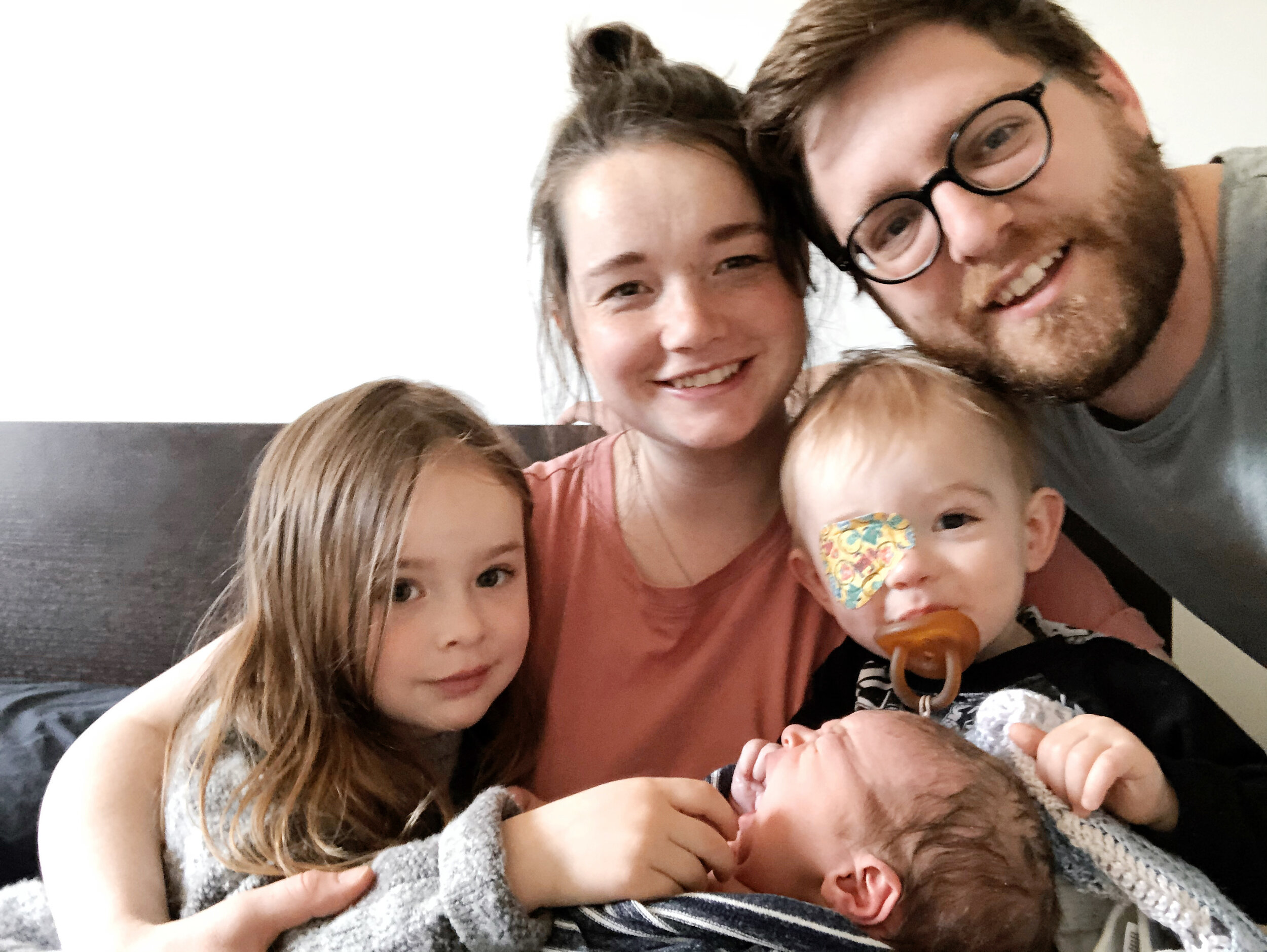 First, a little back story about my other babies that relates to Rocky.
With both Evee and Cove I had been sent to get an extra ultrasound in the third trimester because my measurements had been the same for two weeks in a row (meaning the midwives were concerned and wanted to make sure everything was ok). With Cove I was induced because he was measuring at the 5th percentile and they wanted him born sooner rather than later. And with Evee everything came back normal.
With Rocky, we planned in some extra ultrasounds in the third trimester to keep our eye on him and make sure he was growing properly. Turns out, not only was he growing well, but he was above the average 😱 Not at all normal for me and my history of tiny babies BUT good news.
The day of my due date, May 12, came and went and no baby.
It's so funny to me because earlier in the year I was convinced I wouldn't mind having him stay inside as long as possible considering what was happening with the pandemic. But then I neared and then passed my due date everything in my body and soul started screaming GET THIS BABY OUT!
God knows we would need the extreme discomfort to inspire us to go through the birthing process and welcome the upcoming challenge of delivery. Genius!
I had a midwife appointment the day after my due date and we talked about my options for being induced and what could help things get moving. I asked her to do a stretch and sweep even though she said that statistically they rarely work for Mamas who have already had a baby. I said I was willing to take the low odds because hellooo!! get this baby out!
And, IT WORKED 🙏🏻🙏🏻🙏🏻
That evening around 9 o'clock my water broke. (Side note, if you have never experienced it its such a weird feeling. Kind of like you peed your pants but you know you didn't pee your pants and then you just keep dripping until the baby is born. TMI?! Most definitely 🤦🏼‍♀️).
Michael was on the phone with his mom when I came into the room and said 'Uh, my water just broke.' and of course he was like 'No, it didn't you're joking'.
Nope not joking.
His mom jumped straight into her car to drive the hour to our house to watch the kids and I slowly started having contractions. I called the midwife and we made a plan to call again when the contractions were strong and needed to be breathed through.
45 minutes later, I called again. Labour was definitely progressing.
We made a plan to meet at the hospital at 10:30 PM. Michael's mom arrived at our house and we left almost immediately for the hospital. Contractions were strong but pretty irregular at this point.
This is where it became obvious that giving birth during a pandemic would be a strange experience.
Michael dropped me off at the hospital door and was not allowed to come up until I was in a delivery room. I made the walk down the longest hallway ever by myself with a mask on and having some contractions on the way. The poor people I passed where probably concerned for me but I made it.
After a bunch of screening questions and getting assessed I was deemed in active labour which meant I got a room and Michael could finally join me.
I was having regular contractions and Michael had just gotten to the room and we were filling out some paperwork when all at once I knew it was time to push. My poor midwife was shocked and hurried to call in her partner. I kept asking her if I was supposed to push and she kept saying 'Yes you can but if you can breathe through them try to do that. Listen to your body'. Well my body was telling me to push and everyone was hustling to get everything ready in time because we had been in the delivery room for less than 30 min.
After pushing for what seemed like an hour (Michael says it was only like 5 minutes…not sure I actually believe him on that) Rocky was born with the cord wrapped around his neck five times. Some skillful maneuvering by the midwife and I had a crying, sweet baby on my chest. It was 12:30 AM, May 14th.
My sweet Rocky Brave. 7 lbs 14 oz, with the second biggest head the midwife had ever seen 😂.
The biggest baby I have ever birthed. No epidural. Super fast.
Not easy but in a way that my body knew what was happening and what to do.
Those next few hours are always a hazed mixture of newborn bliss and birth shock recovery. We weren't planning on staying in the hospital so we took our time with newborn checks and writing notes and just soaking in the sweet newborn sounds and feel on your chest.
Oh, and if you are about to have a baby in a pandemic I have a pro tip for ya. Drink some water and then 'forget' to put your mask back on afterwards. No one is going to argue with the lady who just pushed out a baby.
Trust me. It works.
At around 4 AM we had everything wrapped up with the notes, had Rocky dressed in his very first outfit and were GOING HOME! After a quick fast food breakfast stop, (because necessary…if you've had a baby you know!) we were walking in the door at around 4:30 AM with our brand new baby boy.
And then the best thing happened.
Evee came running down the stairs (not sure why she was awake but honestly I am so happy she was). She basically dove into the carseat and was ooing and ahhing over Rocky and it was seriously the best moment. The words 'Come lets show Loppy (our bunny) Rocky' were spoken and a thousand 'You are so cute'. And she even got to hold him.
It was the best.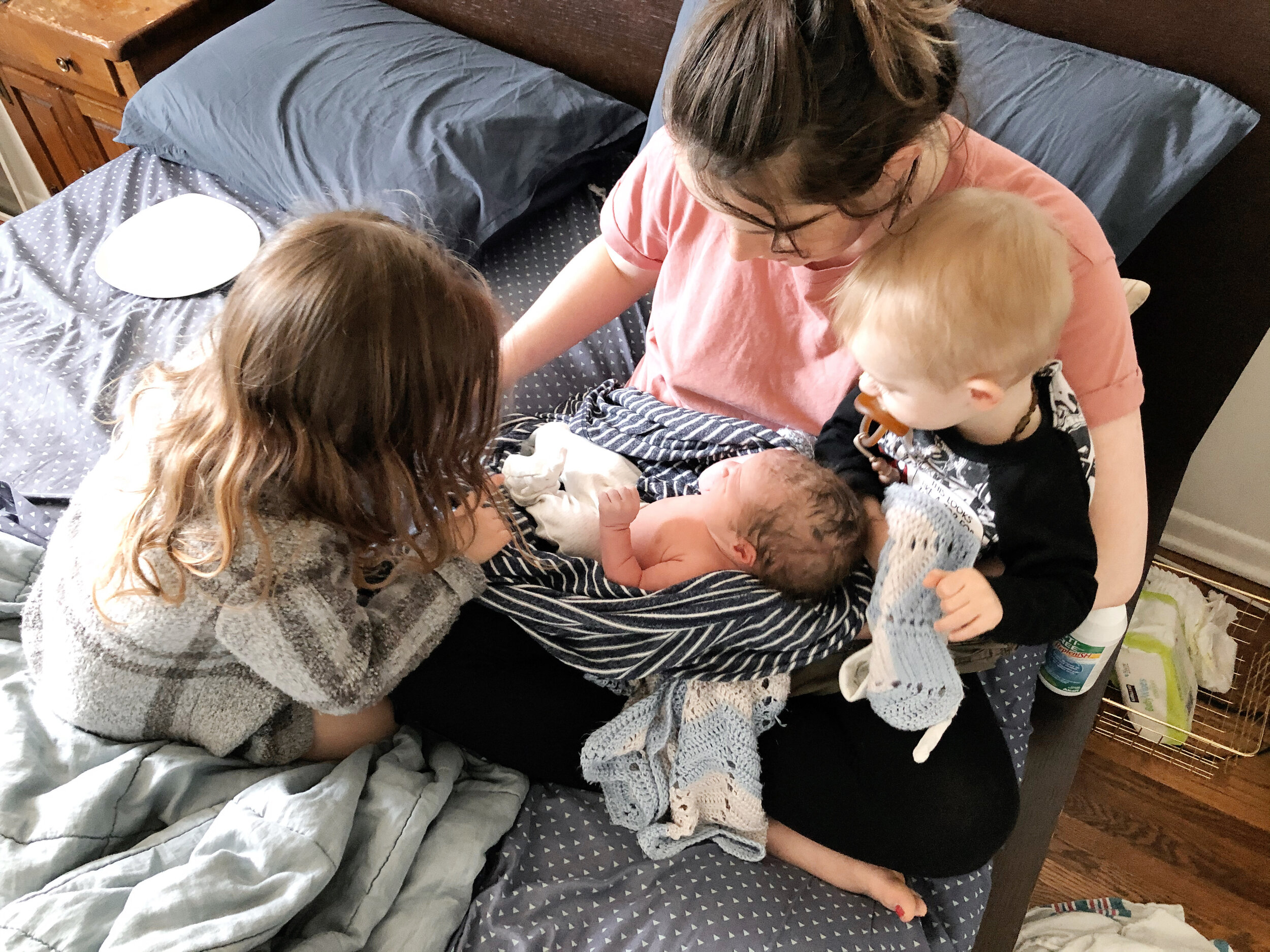 Cove got to meet him the next morning and he was so sweet with him (and a little bit jealous of the baby Mama was holding instead of him).
It was so cool to see all three of my babies together finally!
---
Oh Rocky Brave.
You came quickly just like we thought you would in a world that no one could ever have imagined. We are so happy you are here and you are ours. You have already added so much joy to our family. We cannot wait to watch you grow into the strong, kind, and loving person you already are.
We love you!